"The Best in the World"
That was how TV chef Anthony Bourdain described Lechon in the Philippines in his show No Reservations. Watch the video below.
It was also quoted in Time Magazine where the popular chef declared Philippines Lechon as the the "Best Pig Ever."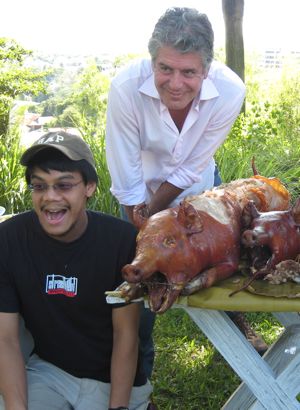 Photo Credit: http://pinoylife.com/2009/02/17/anthony-bourdain-hails-lechon-as-the-best-pig-ever/
Coming from TV chef Anthony Bourdain, who must be an authority on pig dishes considering him being famous for his love for all things porcine, this must hold true.  He visited Cebu, Philippines for his show No Reservations and declared that he found the 'best pig ever!'  That is after having a taste of the Philippine's Lechon, a slow-roasted suckling pig.
Photo Credit: http://bellyblabber.blogspot.com/2009/02/philippines-tops-bourdains-hierarchy-of.html
Those who are not in the Philippines, despair not for the same slow-roasted suckling pig is also available for you.  Adeline's Catering in Skokie, Illinois serves the traditional Philippine Lechon as its primary dish. And having delicious Pinoy lechon on your table  is just a call away, just dial 1-847-568-1190!